Sacked Stafford Hospital lawyer awarded £100,000 payout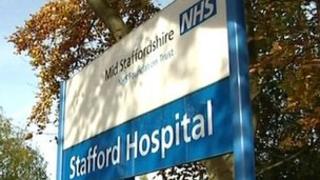 The former head of legal services at Stafford Hospital has been awarded more than £100,000, at an employment tribunal, for unfair dismissal.
Kate Levy was sacked by the hospital's trust after asking a doctor to suppress details about a patient's death.
Mid Staffordshire NHS Trust said it had conceded Ms Levy was "wrongfully and unfairly dismissed".
Ms Levy said she had always maintained that her actions were consistent with her duties as a lawyer.
The trust confirmed it would have to pay Ms Levy £103,000.
Ms Levy had been accused of suppressing information over the death of John Moore-Robinson.
Her actions came to light during a public inquiry which looked into standards of care at the hospital, but she was cleared of any wrongdoing by both the police and the Solicitors Regulatory Authority.
Delete criticism
Mr Moore-Robinson, 20, from Coalville, Leicestershire, was taken to Stafford Hospital's accident and emergency department after a mountain bike accident in 2006, but later died after being discharged with an undiagnosed ruptured spleen.
The coroner requested an expert report. Written by senior consultant Ivan Phair, it said that, in his opinion, the death was "avoidable" and that there was a "high probability that the level of care delivered to Mr Moore-Robinson was negligent".
But during the Francis Inquiry, which looked into standards of care at Mid Staffordshire NHS Trust, it emerged that Ms Levy did not want his comments to be mentioned in an inquest.
She wrote two memos to him suggesting the consultant delete the criticism to avoid further distress to Mr Moore-Robinson's family and "adverse publicity".
Ms Levy was sacked in June 2010 and lost an appeal against her dismissal at an internal hearing three months later.
In a statement, Mid Staffordshire NHS Trust said: "Following legal advice we received from our barrister at the start of the tribunal we conceded that Ms Levy was wrongfully and unfairly dismissed."
Ms Levy said: "I have always maintained that my actions were entirely consistent with my duties as a lawyer, and that I was not in breach of contract or otherwise guilty of any misconduct."