Staffordshire recovers from weekend snow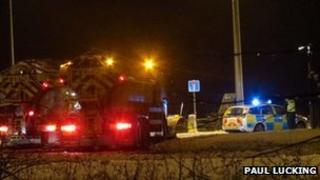 Large parts of Staffordshire have been slowly returning to normal after heavy snow and ice over the weekend.
An amber ice warning remains in force in the area and motorists have been warned to take extra care.
Police have thanked staff at a hotel in Uttoxeter for looking after stranded motorists on Saturday night.
More than 40 people spent the night in the Racecourse Restaurant after abandoning their cars in snow on the A50.