'Chronic neglect' at Stoke care homes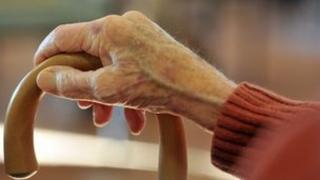 A charity said it had found "chronic neglect" in some privately-run care homes in Stoke-on-Trent.
Eileen Chubb, of Compassion in Care, visited eight of some 300 privately-run care homes in the city and said conditions in one were "heartbreaking".
Ms Chubb, who has not named the homes she visited, criticised the city council's plans to close two of its own specialist dementia homes.
The council said it worked to maintain high standards in care homes.
Ms Chubb, a former carer, founded Compassion in Care to raise awareness and tackle poor standards.
'Wanted to cry'
She visited Stoke as part of an undercover tour of care homes around the country.
Ms Chubb, who pretends to be a relative or prospective customer, sends her findings to the regulator, the Care Quality Commission (CQC).
She said: "I've seen in Stoke chronic neglect. It's quite heartbreaking really. One home I came out of I just wanted to cry.
"The residents were just totally neglected. One lady's hair was clumped and matted and filthy. She had bruises up her arms and she was totally distraught and there were no staff anywhere to be found."
Ms Chubb said the other seven homes had a range of problems, such as staff shortages and people being left alone in a room "without any means of summoning help".
Ms Chubb particularly saw problems in the area of dementia care.
She has gone undercover in more than 300 homes around the country.
"What I am seeing is a care system that's going from bad to worse across the country," she said.
'Share good practice'
Ms Chubb believes the trend is for council-run homes to be better run than private ones and she criticised Stoke City's Council's plans to close its specialist homes, St Michaels and The Meadows.
The council has earmarked the closures as part of moves to save £24m from its 2012/2013 budget.
The final decision over the homes' closures will be made at meeting on 23 February, the council said.
Christine Whitehead, the council's assistant director of adult services, said most people in care homes did receive good quality care and poor standards would not be tolerated.
"We ensure on a regular basis that we work with homes and meet with the managers and staff and share good practice," she said.
"We have close links between the council officers and the Care Quality Commission, the regulator inspector, to make sure we share information about homes."
In a statement, the Care Quality Commission said it welcomed information from members of the public about their experiences.
The CQC said it took poor care seriously and would have "no hesitation" in using its regulatory powers where it found evidence of this.