Number of women firefighters increasing in Staffordshire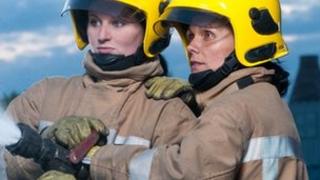 "There's no justifiable reason why in the future the gender of a person would come into the role of a firefighter," said Diane Dunlevey, the equality and diversity manager for Staffordshire Fire and Rescue Service (SFRS).
Of the 907 firefighters currently employed in Staffordshire, 56 are women, which equates to about 6.2%, above the national average of 4.1% for fire services, according to the Department for Communities and Local Government.
Fourteen women joined the county's service in 2011. Twenty years earlier the fire service had two, then swelling the ranks to three.
And some women have moved up the career ladder at the service, with seven currently deployed as crew managers, one now a station manager and another an area manager.
The latter is Becci Bryant, who joined a different service after graduating from university, but later moved to Staffordshire.
Dispelling myths
She said as a young recuit in 1992 she had found it hard initially and that had been problems with attitudes from some male colleagues, as well as the public's perception.
She said many of her female peers "experienced bullying" but that things had changed over the years.
"We've become more enlightened as a sector and society," Ms Bryant said.
SFRS recently stepped up its recruitment of female firefighters by getting teenage girls aged between 14 and 16 in Cannock to write and record a promotional DVD that is being supported by the county council.
According to Ms Dunlevey, the aim was to dispel many of the myths.
She said: "The research told us that young people start to make their decisions about their future when they're around 14 or 15 years old.
"It was suggested that [girls] never thought about being a firefighter."
Like the percentage of women in the service, the numbers of ethnic minorities is also increasing on a national scale. Across England 50,943 people were employed as firefighters in 2011 of whom 3.2% were from ethnic minorities. In 2002 that figure was 1.5%.
Ms Bryant said she believed Staffordshire was quite "forward thinking" in trying to increase both sets of numbers.
"We've spent a lot of time recruiting ethnic minorities and have overcome hurdles in the realms of what a woman can do," the area manager said, adding that 20 years had been too long to increase the numbers of female firefighters in the county from three to 56.
However, a 50-50 split between men and women in the service is unlikely any time soon, Ms Dunlevey said.
"I don't see any reason why it couldn't be that way," she said.
"But I do still think that we've got a long way to go."