Extra A&E staff in Stoke-on-Trent after ice falls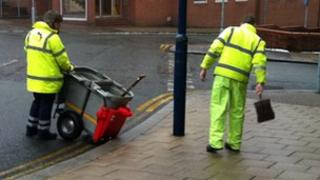 Extra accident and emergency staff have been brought in at Stoke-on-Trent's main hospital to cope with people falling in icy conditions.
The West Midlands Ambulance Service in north Staffordshire has received a large number of calls about ice related accidents.
Between 07:00 and 14:00 GMT on Friday, it had 167 calls from Stoke-on-Trent and 93 of those were a "fall" on ice.
The Met Office has issued a yellow "be aware" warning for much of England.
The number of calls received from Stoke-on-Trent in those seven hours compares with a daily average of 430 for Staffordshire as a whole.
The West Midlands Ambulance Service said: "With the Met Office's latest warning, we would urge the public to be mindful of the conditions if venturing out by car or on foot. Pedestrians especially should wear appropriate footwear."
The Met Office warning reads: "As temperatures fall below freezing on Friday evening ice is expected to form on untreated surfaces across a wide area of England along with eastern and northern Wales and last overnight into Saturday morning."
Fracture clinic
Magnus Harrison, A&E consultant and clinical lead at the University Hospital of North Staffordshire, said 215 people had been seen by 12:00 GMT.
He said the figure was "normally what we would have done by eight or nine in the evening".
"It's mostly slips, trips and falls," he added.
Meanwhile, nearly 30 schools in Staffordshire closed for the day as a result of the cold conditions.
Mr Harrison said patients in the A&E were mainly injuries to wrists and ankles, with some people hurting hips and elbows.
"We've got extra emergency department staff in, we've got extra medical and nursing," he said.
"We've got extra orthopaedic staff in and we've commandeered their fracture clinic to do a lot of the manipulations."
Stoke City Council said its general policy was to grit A, B and C roads to keep traffic moving but, as it currently had enough grit in its store, some pavements had also been treated.