Wedgwood Museum pottery: Who will save collection?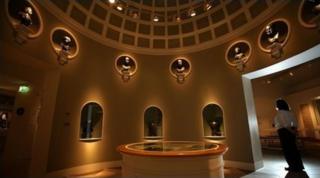 Time is running out for one of the most important ceramic collections in the world.
The Wedgwood Museum pottery collection in Stoke-on-Trent is a unique archive spanning more than 250 years of history and includes works of art such as Josiah Wedgwood's celebrated Portland Vase.
There are also paintings by George Stubbs and Joshua Reynolds.
But its future came under threat when Waterford Wedgwood Potteries collapsed in 2009.
The firm's £134m pension debt was transferred to the museum's trust, prompting it to go into administration because of this inherited financial "black hole".
In December a High Court judge ruled that the collection could be sold by administrators to plug the pension deficit.
Leading antiques expert Eric Knowles said that he had been following the case closely and hoped that the "nightmare scenario" of the collection going to the sale room would be avoided.
"I've blanked my mind to the possibility of it going to auction," he said.
"Of course I have all the sympathy in the world for pension holders, but we'd be the laughing stock of Europe and worldwide that we would stand back and allow financial folk to sell off a fundamental part of our heritage.
"It's like George Osborne going to the Queen and saying 'look Your Majesty, we've got this terrible deficit and we've been offered a good price for the Crown Jewels from the Sultan of Brunei'."
For the majority of the campaigners, the most important thing is to keep the collection together.
After all, Stoke-on-Trent is still hurting from the break-up of another of its historic collections when Royal Doulton sold its collection of Minton ware a decade ago.
Despite that sale, Doulton got less back, after commission, than had been offered by the local Potteries Museum to buy the collection.
But that unfortunate episode is something that all parties want to avoid this time around.
Royal Academy letter
"It's a tragic situation that many people have been grappling with for ages," said former Stoke-on-Trent MP and arts minister Mark Fisher.
"Once you start breaking it up and selling off the best pieces, the juicy pieces, the famous pieces, then a lot of the value of the collection goes.
"Surely whoever pays for it, they do so as a totality... so the battle is to hold it together."
Some have argued that the government should help.
Last week The Royal Academy's president Christopher Le Brun wrote a letter, signed by 17 others including artist Tracey Emin, calling on the government to offer "advice and help as to how this collection may be saved for the nation".
Culture minister Ed Vaizey admitted in the Commons that it was "a complex situation which may take some time to resolve" and said he was "working hard" to ensure its future.
Both the administrator Begbies Traynor and the Pension Protection Fund, the main creditor, have said that they are talking to potential suitors and are prepared to allow time for fundraising.
But with the collection worth anything from £11m to £18m, who could possibly afford to buy it?
Corporate and individual giving to the arts is going down, according to the first UK Arts Index.
It showed that between 2007 and 2010, corporate giving reduced by 17% and philanthropy by 13%.
One person who might be interested is Staffordshire billionaire businessman John Caudwell.
When the High Court ruled the collection could be sold, Mr Caudwell stepped forward and said he might buy it to save it from being broken up.
"If the trustees don't find any other way of solving the issue, then I will attempt to buy the entire collection and keep it in situ for the foreseeable future, and continue with public access," he said.
But MP for Stoke-on-Trent Central, Dr Tristram Hunt, is cautious about such an approach.
"He [Caudwell] wanted to buy it, which is very different to donating it," said Dr Hunt.
"But it would be wonderful if he contributed to a campaign to keep the collection in Stoke-on-Trent."
'Mixed emotions'
The preferred - and most likely - outcome would be a co-ordinated fundraising drive involving a variety of arts groups and charities.
Dr Hunt has admitted that after a meeting with the attorney general, a legal appeal against the sale is looking increasingly less likely, and that fundraising could be the only way to save the collection.
He and Mr Vaizey have already met with a consortium of the Heritage Lottery Fund (HLF), Arts Council England, Art Fund, and the Victoria and Albert Museum.
"The feedback is still one of shock at the moment," said Dr Hunt, "but once it sunk in that we could lose it, everyone started to get their heads around it and moved towards a fundraising strategy."
The HLF gave the Wedgwood Museum nearly £6m in 2005, and is therefore legally a creditor of the Wedgwood Museum Trust. But an HLF spokesperson said it was unlikely to ask for its money back.
Carl Moss, 71, from Trentham in Stoke-on-Trent, worked in the pottery industry for 44 years.
He has a Wedgwood pension and said he had mixed emotions about the whole saga.
Mr Moss said although he was happy that the pension pot would be swelled, he said it was more important to him that the collection should be kept together.
"To work for Wedgwood was a childhood ambition of mine," said Mr Moss.
"I just want it [the museum] to have a good owner, someone who will respect the heritage of an industry that I worked in for the whole of my working life."