Trees for Queen's jubilee stolen from Staffordshire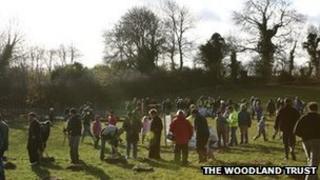 Thieves have stolen 160 saplings planted in Staffordshire to commemorate the Queen's Diamond Jubilee.
The native British species, include hawthorns, ash, hazel, silver birch and two royal oaks grown from acorns that were collected from the Royal Estate.
Volunteers planted the trees in Leek on Sunday but they had gone by Tuesday.
Leek Town Council has now applied to The Woodland Trust for a community tree planting pack to replace the saplings.
The Woodland Trust said its national tree planting scheme was oversubscribed but it was trying to source replacement trees in time for the jubilee.
'Real shame'
The trees were planted on two sites in Leek, one in Brough Park and the other in Pickwood Recreation Ground.
Those planted at the recreation ground were stolen sometime between Monday night and Tuesday morning, Staffordshire Police said.
A spokesman for the trust said: "It's a real shame that they have been stolen, not least because of all the hard work the volunteers put in to plant them.
"We wanted to plant one million trees in time for the queen's jubilee and we are trying to source some emergency replacement trees before the end of the spring planting season from Scotland.
"If we are not successful then we will definitely be able to give them some saplings in time for the autumn planting season."
'Lasting memorial'
The trust aims to have planted six million trees by the end of 2012 to mark the jubilee year and to help increase the country's tree population.
It said England was one of the least wooded countries in Europe, with a tree population of about 12%, of which 8% were native species.
The average EU population is 37% wooded, the trust said.
"Trees are a lasting memorial and have long associations with the royal family, dating back to William the Conqueror who created the New Forest," a spokesman said.