Jobs hope with new Stoke-on-Trent truck-building factory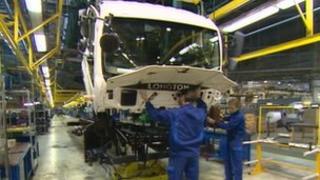 Plans have been revealed for a truck-building factory in Stoke-on-Trent which may create hundreds of jobs.
The proposed plant in Longton, which could open in 2013, has been planned by a group of Staffordshire businessmen.
They have formed Longton Avia, which has worked with Indian manufacturer Avia Ashok Leyland to make "Longton" trucks in Prague in the Czech Republic.
The firm, which has a distribution base in Longton, said it had been looking for a new site for an assembly plant.
Prague will initially continue to be the production centre, but there are hopes Longton will also produce trucks.
Longton Avia commercial director, Jonathan Dale, said British manufacturing was "not dead".
He added: "We're making I understand far more vehicles in the UK than we have done for many, many [years] and this is part of the revival."
Avia Ashok Leyland said Longton had a "long history of engineering pedigree in the UK".
Nigel Base from the Society of Motor Manufacturers and Traders said: "Entering any new market I think is a challenge, but nonetheless I think there are also great opportunities.
"It is a recovering market and I think with the right investment and the right quality of products I think there's a real opportunity here."