Rogue trader: Victim wants longer sentence for Anthony Mander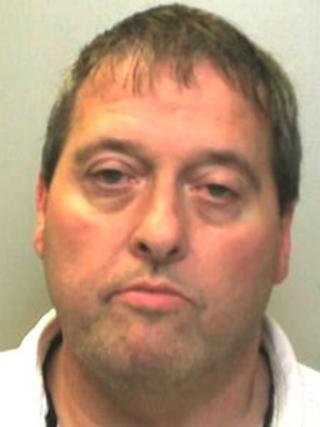 "You hear about these rogue traders, but you think it's never going to happen to you," says John Burnham.
The 56-year-old from Biddulph, Staffordshire, was tricked out of over £1,000 for windows and doors he never received.
The man responsible was Stoke-on-Trent builder Anthony Mander.
The 50-year-old from Burslem has now been jailed for three years and nine months after pleading guilty of obtaining money by deception.
In total, he tricked 17 people in north Staffordshire out of tens of thousands of pounds after cold-calling his victims and getting cash up front for work he never completed.
"When he first came round, he was offering water seal treatments on the outside of houses for £40," said Mr Burnham.
"We were in the process of having new windows put in and he said he did windows and doors, and that he could get them at a special rate.
"Obviously we were quite interested in saving money, but he wanted cash up front to buy them, so we gave him just over a thousand pounds.
"We got receipts and everything, but after we paid him the money the windows never materialised.
'Longer sentence'
"We were on the phone to him on numerous occasions but he kept on blaming the weather at first - it was a really bad winter.
"After a few months, I asked him for the windows and doors and said that I'd find my own builder to fit them.
"We still never saw anything, but after about 12 months, trading standards came round and we never spoke to him again.
"Trading standards did say not to expect anything back, and I'm not holding my breath; he's not going to have any money left is he?
"I would like to have seen a longer sentence - he'll be out in 18 months or so - and it's not going to help people get their money back.
"But as long as it's stopped other people being conned by him, and he never trades again, that's the most we can hope for.
"What I've learnt, and what I would say to other people, is never have any work done by someone who just comes to the door."