Stoke City 1972 League Cup winners attend reception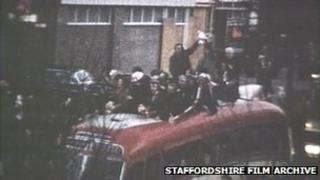 Players who secured Stoke City FC's only major trophy are to gather at a reception to mark the 40th anniversary of the Wembley triumph.
The event, at the parlour of Lord Mayor Terry Follows on Thursday evening, will celebrate the Potteries club's 2-1 win over Chelsea in the League Cup final.
Goalscorers Terry Conroy and George Eastham, and World Cup winner Gordon Banks, are among those due to attend.
On Sunday the club will host a dinner on the actual anniversary of 4 March.
Supporters have been able to buy tables for the celebratory dinner starting at 19:00 GMT at the Britannia Stadium.
'Very strong'
The other six players who are due at the lord mayor's reception are John Marsh, Mike Pejic, Mike Bernard, Denis Smith, Jimmy Greenhoff and substitute John Mahoney.
Stoke's all-time leading goalscorer John Ritchie, who played in the Wembley victory, died in 2007 at the age of 65. He scored 176 goals in 343 games in two spells with the club between 1962 and 1975.
Mr Follows said: "I remember watching the game and cheering them on against what was a very strong Chelsea team."
A free event showing images from the final and games earlier in the competition will take place at Stoke-on-Trent Film Theatre on College Road at 19:45 GMT on 21 March.
Interviews with players, including some recorded in 1972, will also be part of the screening put on by Staffordshire Film Archive.