Liam Wood: Football death boy had heart defect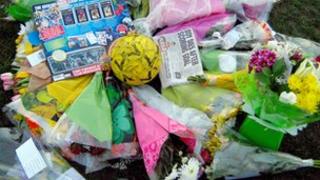 A 13-year-old boy who died shortly after scoring a goal in a football match died of natural causes, a coroner has recorded.
Liam Wood collapsed on a pitch just after he had scored for AFC Saints on fields in Knutton, Staffordshire, in January.
An inquest heard Liam, from Chesterton, had a defective artery in his heart.
Hundreds of people paid tribute to Liam, who went to St John Fisher Saint Catholic College, after his death.
The coroner for North Staffordshire, Ian Smith, heard that Liam had been playing for the Sunday League side when he was taken off at half-time because he felt tired.
Goal celebration
He came back on mid-way through the second half but his family noted he was not running as much as he usually would when playing.
He scored a goal, the inquest heard, and ran to a corner, sliding to the ground as a celebration.
However, on his his way back to the half way line he collapsed and was rushed to hospital.
A pathologist told the inquest Liam, who played football four times a week, had an extremely rare heart disorder.
His arteries were connected to the same place in his heart, unlike most people's whose arteries are connected to different parts of the heart.
In most cases the defect is only discovered after death, the pathologist said, and that it cannot be picked up as it would be undetected in normal scans.
His mother, Julie Bostock, said Liam had always been full of life.
"He was always playing football," she said.