Farmers 'killed John Iveson over money debt' court hears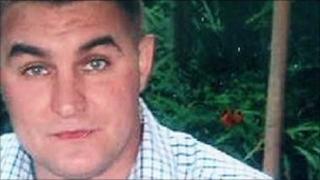 Two farmers killed a man and disposed of his body because he was harassing one of them for money, a court heard.
John Iveson, 36, from Nantwich, disappeared in January 2007 but his body has never been found.
Paul Billington, 40, a pig farmer, from Rossett near Wrexham who is also Mr Iveson's brother-in-law, and Mark Done, 47, from Nantwich, deny murder.
The jury at Chester Crown Court heard Mr Billington owed Mr Iveson tens of thousands of pounds for a house.
Prosecutor Andrew Thomas QC said as farmers, the men had access to land, firearms and equipment to kill him and dispose of his body.
"He (Mr Iveson) was something of a wheeler dealer, a rogue and a criminal.
"He could be a charmer but he was sometimes violent and he hit his wife," said Mr Thomas.
Mr Iveson was last seen by the defendants at 20:00 GMT on 30 January at Hill Farm in Nantwich where Mr Done used to live and work.
He then failed to show up for an appointment an hour later, the court heard.
His pick-up truck went missing from his house that night which the prosecution allege was stolen to make it look like Mr Iveson had returned.
The defendants staged a bogus call from his phone after he was dead to make it look like he was still alive, the prosecution allege.
Mr Thomas said that as Mr Iveson's wife was heavily pregnant with their fifth child when he disappeared, it was inconceivable that he had simply walked away from his life.
The trial continues.