Port Vale Supporters Club hold emergency meeting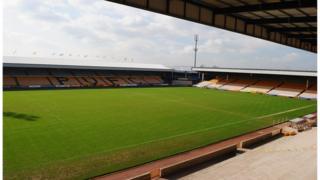 Hundreds of fans have attended an emergency meeting to discuss the future of Port Vale football club.
The club is expected to be put into administration on Monday after a winding up order from HM Revenue & Customs.
Pete Williams, chairman of Port Vale Supporters Club, said: "We want to prove that we're a good club and support it."
Acting chairman Mike Lloyd was jeered at the meeting and was asked to leave.
Earlier this week Vale, who are under a transfer embargo,were hit with a winding-up petitionafter failing to pay a tax bill.
Players and staff having also gone unpaid.
'Heart and hub'
Mr Williams, who attended the meeting at Baddeley Green Working Men's Club, said: "We want to prove to any prospective purchaser and to the council that we have got a good club and we will support it.
"The supporters are the heart of the club and we want to prove it's well supported under whoever buys it in the future."
The club is currently unable to function as a business following the resignation of director Peter Miller.
Mr Lloyd has said there are other people that should take the blame for the financial mess at the club, and not just the current board.
Mr Lloyd has told the BBC: "There are many reasons why the club is in this financial position, when the club first came out of administration 10 years ago, it started with a £1m loan.
"On top of that, over the past 12 months we've had lower attendances, the economic situation is not good so not so many people are going to games."