Demolition work starts on Coors tower in Burton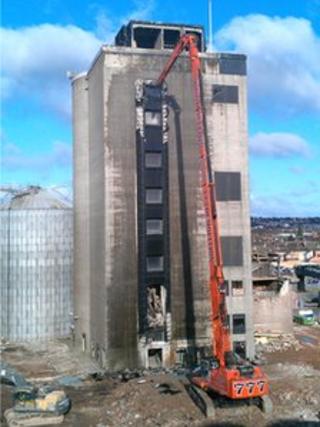 Work has begun to dismantle a tower that has dominated the skyline of an east Staffordshire town.
The maltings building at Molson Coors' main brewery in Burton-on-Trent was originally built in 1984.
Special machinery will take apart the 57m (187ft) concrete structure piece by piece over a three week period.
A new power station will eventually be built on the site, with the brewery also promising to build a new landmark for the area.
Brewery general manager Jeremy Derbyshire said it would be "more exciting" to blow the building up.
"But the reason why we're taking it down the way we are is... it's really important that we do it carefully and safely and we control the way that we're doing the demolition process."
The company said noise and dust levels would be monitored on site to ensure that they were kept suitably low.