Army recruitment event at MOD Stafford to attract thousands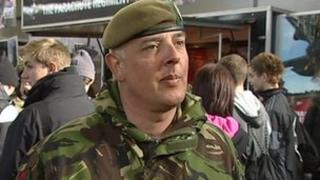 More than 5,000 students from across the West Midlands are expected to attend an Army recruitment event in Staffordshire this week.
Some 1,200 people are recruited in the region every year according to an Army spokesperson, who said that number was unlikely to be affected by recent cuts.
The Army will see up to 2,900 job cuts in a second round of redundancies announced earlier this year.
The annual event, based at MOD Stafford, runs until Friday 9 March.
Lt Col Jim Turner, from 143 (West Midlands) Brigade, said there was still plenty of interest in careers in the armed forces.
'Brightest and best'
He said: "It is true the Army is reducing in size over the next 10 years down to 82,000.
"However, in the West Midlands alone we recruit around 1,200 people each year and that's not going to change, because the Army is always going to be a very large organisation that is looking for lots and lots of people to join every year.
"There are huge amounts of job opportunities and quite frankly at the moment there are a lot of people interested in a career in the Army.
"We can be quite selective and take the brightest and the best on."
About 100 schools and colleges will visit Midlands Soldier 2012.