Fire at Cathedral School in Lichfield prompts evacuation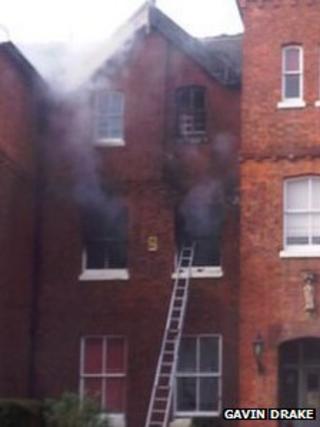 Firefighters have extinguished a fire at a school in Staffordshire.
About 200 pupils were evacuated from Cathedral School, on The Close in Lichfield, after crews were alerted at about 14:30 GMT.
The fire was on the first floor of the three-storey building which is used as office space.
Five fire engines were called to the scene, Staffordshire Fire and Rescue said. Firefighters were expected to continue dampening down into the night.
Service spokesman Paul Richins said: "The school carried out a well co-ordinated evacuation of approximately 200 children.
"Firefighters worked hard to prevent the fire from spreading to several adjacent buildings.
"The fire has caused severe fire damage to an office on the first floor and has caused smoke logging to the whole building.
"A fire investigation will now take place to establish the cause of the fire."
Children of nursery age through to sixth form attend the school.