Seighford villagers buy Hollybush Inn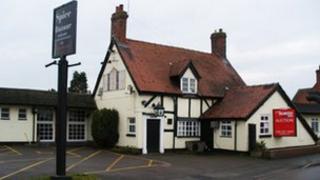 Beer is set to return to the menu in a Staffordshire village after residents grouped together to buy the local pub.
The Grade II-listed Hollybush Inn in Seighford, near Stafford, has been an Indian restaurant for the last three years.
But that is set to change after 26 locals joined forces to buy it at an auction earlier this month. Their intention is to turn it back back into a pub.
Local farmer Robert Eld, who has led the campaign, also hopes to organise mobile services to replace the village shop which closed.
The group had pledged £199,000 within two weeks to buy the Hollybush Inn although Mr Eld said a total of about £250,000 was probably needed before it could reopen by the end of the year.
'Focal point'
Shares will be issued and a co-operative formed, according to Mr Eld, who added the pub was part of a bigger plan to reinvigorate the village.
Mr Eld said: "The village needs a focal point. We've got a village hall, but it doesn't have a licence.
"We have a thriving school and church but lost the village shop and the pub. We are trying to restore those services."
He said the group had already sacrificed a lot to take on the 17th Century Hollybush Inn.
"It remains to be seen whether we can make a go of it. But if we can't make this pub a success, nobody can," Mr Eld continued.
"When you can go to work and you know the people you're serving it's a really nice feeling.
"One of the nicest things is that some of the investors didn't know each other before and so it's already started to bring people together."