Cathedral School in Lichfield partially closed after fire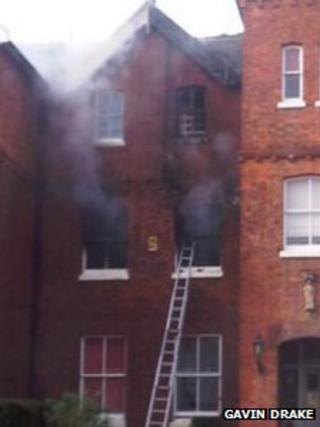 Parts of Lichfield's Cathedral School remain closed after a fire that saw 200 children evacuated from the building.
Head teacher Michael Chanter said a structural engineer will assess the damage to the school's Lichfield site.
Staff are looking for alternative classrooms with priority being given to pupils studying for exams, he said. The school's Longdon site is open.
Firefighters were called to School House on The Close at 14:30 GMT on Tuesday.
The fire was on the first floor of the three-storey building which is used as office space.
Staffordshire Fire and Rescue Service said the school carried out a "well co-ordinated evacuation" after the fire was discovered.
Children of nursery age through to sixth form attend the school.
An investigation is under way to establish the cause of the fire.