Sailors' Jubilee march in Stone and Stafford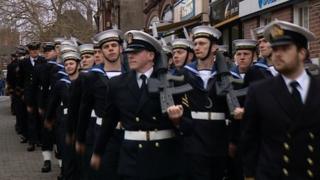 Dozens of sailors have marched through two Staffordshire towns to celebrate the Queen's Diamond Jubilee and 2012 Olympics.
Servicemen and women from HMS Collingwood marched through Stone and Stafford.
HMS Collingwood, which is based in Fareham, Hampshire, was granted freedom of the borough nearly 33 years ago.
Commanding officer Commodore Michael Mansergh said the freedom of Stafford was "an honour we are very proud of".
He said Royal Navy sailors were "exercising our right to march in Stafford" to celebrate the Queen's Diamond Jubilee and London hosting the 2012 Olympics.
The sailors and local army and sea cadets and borough council representatives attended a service at St Michael and St Wulfad's Church in Stone.
Stone was originally linked with the Royal Navy through HMS St Vincent, which was named after the admiral of the fleet who was born near the town.