PC David Rathband 'coming home' to Stafford for funeral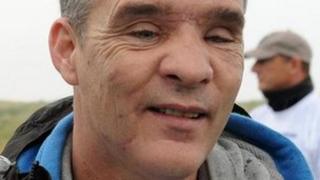 PC David Rathband, who was shot and blinded by Raoul Moat, never forgot his Staffordshire roots, according to his twin brother.
PC Rathband, originally from Stafford, was found dead at his home in Blyth, Northumberland, on 29 February.
His funeral takes place at Stafford Crematorium on Tixall Road on Saturday.
Darren Rathband said his brother's wishes were that he was to be "buried in Stafford. That was his bond to his home town".
He said PC Rathband was "a Staffordian through and through and, as often as he could, he came back".
Mr Rathband said: "I've had messages from across the country and county - that really shows David did have a bond to Stafford. And that was a bond that he took with him to the North East.
"He left to join the police force, that was his ambition then.
"If he could have got into Staffordshire [Police] he would have remained here."
On Saturday, PC Rathband will be buried next to his niece Naomi Essery.
Mr Rathband added: "The day will certainly hold a lot of tears for a lot of people.
"But it's a chance for everybody to come and pay their respects and send David off.
"David will leave his sister's home and travel down the Newport Road, past the old Grapes where he used to go for a couple of pints, and then up to Tixall Road via the Weston Road.
"There's one of his favourite songs that he's coming in to which will have people smiling. That's open to the public. Anybody who wants to come and share that service they're more than welcome.
"We'd ask for dignity and a bit of privacy when we take David to be with Naomi when we lay him to rest because that's a time for the family.
"Then we're going to raise a glass to him and celebrate our memories of him.
"I just hope people do turn out and show that it wasn't for nothing. It's got to be for something other than a coward that shot him."
PC Rathband's widow Kath will be at the funeral but missed last week's humanist memorial service that took place at St Nicholas Cathedral in Newcastle. It drew more than 500 people with more lining the surrounding streets.
Like the funeral, it was also organised by Mr Rathband who said his brother had "reached out and touched thousands of lives".
He added: "For a man that's come from Stafford and lived in the North East to do that, far and above what he needed to do in the line of his duty, we thought it was appropriate to give the North East a chance to send him off back to his home town."
A third service will be held in Newcastle on Monday.
Lingering memories
After he was shot, PC Rathband set up the Blue Lamp Foundation charity to raise funds for injured members of the emergency services.
Mr Rathband said he would continue the work of his brother whom he last saw alive during a recent visit to his home in Adelaide.
He said: "Everyday I look in the mirror I'll see my brother.
"I'm there for him and I'll defend him until the day I die.
"I'm dreading going back to Australia because the last thing I remember is he sat in my chair on my patio and that's still there with his ashtray.
"I'll smell him on my hammock when I sit in it. That's when my world will fall apart I think, even more so than now."