Digger firm JCB to double number of new recruits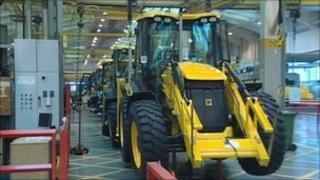 A Staffordshire digger firm has announced it will more than double the number of apprentices it takes on.
JCB, in Uttoxeter, revealed it would spend £3.5m recruiting more than 100 young people, during 2012.
The firm said it would also be launching a new Higher Apprenticeship Scheme in September with the opportunity to study to degree level.
Three of the new faces are a set of 16-year-old triplets - Jack, Katie and Liam Rowe - all training to be welders.
They arrive each morning in convoy on three 50cc scooters before starting their day's work.
"I'm hopeful that I can be set on at the end of the apprenticeship and beat these two, get a higher position and be in charge of them," said Liam.
Miles Pixley, a HR manager at JCB, said: "Developing young people is vital to the future of a global business like JCB and the amount being invested this year demonstrates just how serious we are about recruitment in this sector.
"We are implementing our 'Young Talent' programme against a back-drop of success with our existing graduate recruitment programmes which have enjoyed 100% retention over the past five years."