Pilgrimage between Chester and Lichfield launches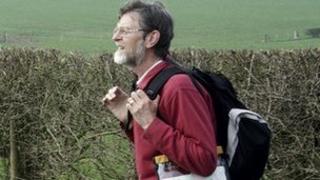 Pilgrims are making their way along a revived 90-mile route across Cheshire and Staffordshire.
The Two Saints Way runs from Chester Cathedral to St Chad's, Lichfield, with 12 people expecting to complete the first official pilgrimage on 1 April.
The week-long walk to Lichfield will take in Stoke, Stone and Stafford.
One of the organisers, David Pott, said the Two Saints Way would have been "one of the important pilgrimage routes in the middle ages".
"In the middle ages people used to go particularly to the shrines of saints. One of the main reasons was for healing," he added.
Mr Pott, a historian, hopes to revive a number of customs associated with certain locations along the route.
There is a legend that pilgrims brought stones to the town of Stone to create a pile over the bodies of two prince martyrs.
"That's an example of the kind of pilgrimage custom we want to revive," Mr Pott continued.
"We'll make that first little pile and hopefully it will just gradually grow over the years."
'Spiritual element'
One of the dozen aiming to cover the whole trail with Mr Pott is Dr Teeranlall Ramgopal from Staffordshire University.
Dr Ramgopal is interested in the spiritual benefits and "therapy" a pilgrimage could offer.
He said: "The pilgrimage trail itself is an opportunity for people to share. Share their life stories, share their personal stories but from a mental health point of view it is also a way of a kind of therapy.
"People talk and sometimes there is that kind of release of one's stress and anxiety.
"There's a personal element to it but also a personal spiritual element."
An interpretation panel will be unveiled at the well next to St Chad's church at the end of the walk to mark the official launch of the route.