Minister says Wedgwood collection 'has to stay' in Staffordshire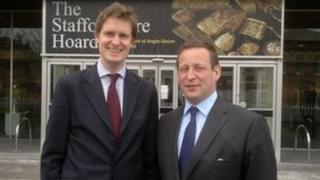 The culture minister has said it would be "a catastrophic failure" if the Wedgwood Collection of pottery were to be sold off on his watch.
Ed Vaizey has been in Stoke-on-Trent visiting the Wedgwood Museum in Barlaston and The Potteries Museum & Art Gallery in Hanley.
Mr Vaizey's visit has been welcomed by campaigners who want the collection to stay on display in Staffordshire.
It is currently under threat of being sold to help pay a pension deficit.
'Unique and incredible'
Mr Vaizey said: "I think it's essential they [the collection] stay together. I think it's unarguable that this collection cannot be broken up.
"It's part of the history of our nation and it's part of the history of this part of the world.
"The Wedgwood collection is unique, it's incredible, there's nothing like it in the world.
"We have to get the collection valued and then we have to look at how we can put together a coalition of people and organisations who will help fund the money needed to save the collection."
Members of the Wedgwood family have begun a campaign to save the collection from leaving Staffordshire.
Alison Wedgwood said: "Having him here shows the importance of how the government sees this collection."
Tristram Hunt, Labour MP for Stoke-on-Trent Central added: "I'm very glad the minister agrees with us that the collection needs to be preserved as a whole in Staffordshire.
"We need to think about a fundraising strategy and a future plan for the museum."