Staffordshire respite centre to attract new backers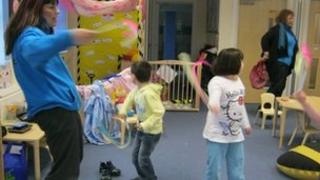 "We don't want to keep going to the same people for funds," said Sue McGarry, chairwoman of a Staffordshire respite centre that offers care for children with special needs during school holidays.
"We've had quite a bit of funding from East Staffordshire Borough Council.
"Our MP Andrew Griffiths has been very proactive for us and local councillors have been absolutely superb."
But bids for lottery and Children in Need funding have been rebuffed, according to Ms McGarry.
It costs £10,000 a year to run Rakemark Respite, which opened its doors last Easter.
A move to Rocester Children's Centre from its original home in Uttoxeter in February has helped to trim expenditure. The new facility has been offered to the organisation free of charge by the county council.
'Logistical nightmare'
At present the Ofsted-registered holiday club looks after 15 children between the ages of two and eight.
With three members of staff and a number of volunteers it could look after 24 on any given day, and a recent grant has financed a marketing push to help the centre attract that number.
Ms McGarry decided to create the club after struggling to find things for her daughter, who has Down's syndrome, to do during 2010.
"There are places about if you're prepared to travel but because my other two boys were doing their own activities, to be miles and miles away with my daughter was a logistical nightmare," Ms McGarry continued.
Others who pay to use the centre, such as Sally Hart whose six-year-old boy Ryan has dyspraxia, are grateful to have the facility on their doorstep.
There are concerns not just about future funding, but what to do with children who reach the upper age limit.
Ms McGarry, whose daughter turns eight next year, said plans were being formulated to potentially offer a separate service.
"We're thinking, 'Do we set up another club with a more youth club feel for the older children'?
"I've got to think long-term for my daughter."