Wheelchair theft tackled at Stafford Hospital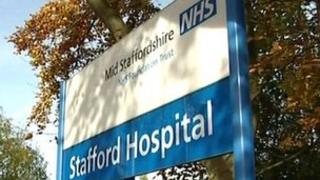 A supermarket-style coin-operated system for wheelchairs is being introduced at Stafford Hospital following the theft of some of them.
About 50 of them will have the device after Mid Staffordshire NHS Foundation Trust received complaints as a result of not having wheelchairs available.
People inserting a £1 coin to release a chair will have the money refunded once it has been returned.
Wheelchairs will be kept at four locations under the initiative.
The trust said it hoped the system would encourage patients and visitors to return wheelchairs to their original location after being used.
Associate director of estates and facilities Chris Eccles added that aside from theft costs, its porters spend "a considerable amount of time hunting around the hospital site trying to find wheelchairs", which was not the "best use of their time".
He said the trust hoped patients and visitors would understand why the system had been implemented.
Facilities have been installed at the main entrance, in the corridor to the left of the reception desk and on the first and second floors. Trolley tokens can also be used to release the chairs, instead of cash, under the system.