Chernobyl shield tested by Stoke-on-Trent ceramics firm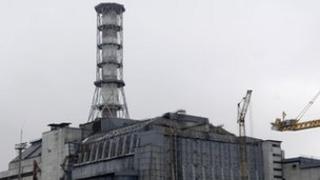 A metal shield designed to stop radiation leaking from the Chernobyl Nuclear reactor is being tested by a company based in Stoke-on-Trent.
Ceram has been testing the strength of the steel dome-shaped cover at its plant in Penkhull.
It will replace the concrete casing which was put over the plant in Ukraine after the 1986 accident.
Research teams are dropping 25kg blocks of ice on it and simulating extreme weather conditions.
The company said the existing casing was deteriorating, increasing the risk of radioactive material leaking into the environment.
It said the new shield would confine the site for the next 100 years.
Force 3 tornado
Ceram chief executive Tony Kinsella said: "What we're trying to do here is to make sure that the outer structure can withstand the huge pressure of something like a force 3 tornado.
"[We need] to make sure it won't part, that none of the panels will come off and start to expose radioactive material inside."
French construction company Novarka is to build the 29,000 tonne arch-shaped structure which will be 150m (492ft) wide and 257m (843ft) long.
It will entirely cover the existing containment structure which encases the whole reactor and radioactive fuel that caused the accident 26 years ago.
Plume of radiation
Delivery of the materials and machines to Ukraine for the building work has already begun. It is due to be completed by 2015.
The explosion at Chernobyl on 26 April 1986 was the world's worst nuclear accident.
It sent a plume of radiation across Ukraine, Belarus, western Russia and other parts of Europe.
Thirty people were killed and more than 100 received radiation injuries.
Thousands of cases of child thyroid cancer in the area may also be linked to the disaster.