Stoke-on-Trent City Council launches new council houses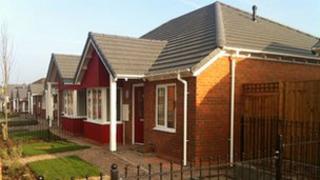 The first new council houses in Stoke-on-Trent for almost 30 years are due to open later.
The 17 two-bedroom bungalows have been built in Chell Heath and include underfloor heating and solar panels.
Stoke-on-Trent City Council, which has invested £1.5m in the scheme, said all of the new houses had been let within a few weeks.
About 3,000 individuals or families in the city are currently on the waiting list for social housing.
The Labour-led council, which manages 19,000 properties across the city, said two-bedroom homes were the most in-demand.
The houses, which took 40 weeks to build, have also been designed to be environmentally friendly and thermally efficient.
The local authority said the bungalows were particularly expected to benefit families with mobility problems and feature extra-wide doorways for wheelchair access.
'A benchmark'
Stephen and Hannah Lowe said their move into one of the new homes would make a big difference to their 16-year-old son Josh, who uses a wheelchair and suffers from hypoplastic anaemia.
Stephen Lowe, 42, said: "We had lived in a town house in Burslem for 14 years.
"It was very difficult for Josh to use the stairs, and also because we needed to keep the house warm because of Josh's condition, we were spending up to £800 a quarter on electricity."
Councillor Janine Bridges said the homes would become "a benchmark" for future projects.
She added: "Now that the government is handing control of housing renewal allowances to councils, this housing scheme is something we can build on for the future."