Lady Bagot shares memories of being at the coronation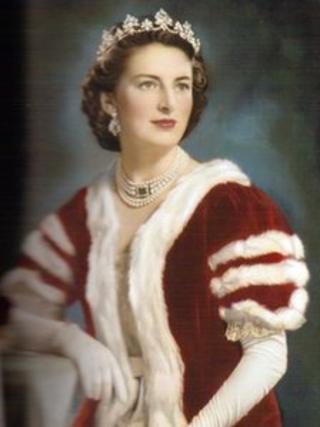 "She looked so lovely and serenely dignified, her beautiful complexion seemed to glow - I could hardly believe I was there."
Lady Bagot of Blithfield Hall, Staffordshire, who is now 92, still vividly remembers being in the congregation at the Queen's Coronation in 1953.
She will be passing on her memories of that day, together with special commemorative mugs, to children attending a Diamond Jubilee street party in the village of Admaston.
She said: "I felt very proud because I was one of only two Australians in the abbey.
"I felt I might have been watching a coronation procession taking place hundreds of years ago and it gave me a wonderful feeling of continuity."
'Heart sank'
She still has a letter she wrote to her mother in 1952 describing her experiences of the ceremony in Westminster Abbey.
The letter records that she has an early start on coronation day and that "her heart sank" when she looked out of the window at 04:30 BST to find the day was "cold and grey".
She was in her seat in Westminster Abbey at 07:15 and left "cold, tired and hungry" eight hours later.
But she recorded that the excitement of coronation day reminded her of the capital on the day WWII ended.
"London was the centre of the world," she wrote to her mother.
Lady Bagot was originally from Sydney and worked for the Red Cross in London during the WWII.