Fish rescue attempt at Madeley village pool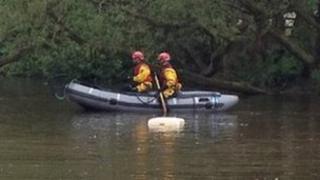 Firefighters tried to save hundreds of fish in a Staffordshire village pool after many dead fish were found floating in the water.
The alarm was raised in Madeley at about 08:00 BST, according to parish councillor Gary White.
Ten firefighters, including a boat crew, helped in the recovery. Local residents also helped.
Mr White said about 300 carp had died and there was a "smell of slurry".
He said: "The residents are out in force.
"They've got dinghies on the pool. They're fishing the fish out into buckets to try and save them.
"We're taking them into paddling pools that people have brought down."
Environment Agency officers are at the pool determining the cause of the problem.
A spokesman said they suspected the fish deaths were as a result of pollution up stream in the River Lea.