Stoke-on-Trent remembers Lidice massacre 70 years on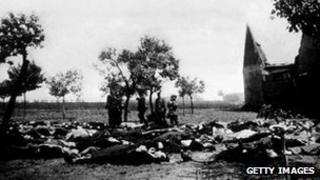 A Nazi wartime massacre in Czechoslovakia has been remembered at a special service in Stoke Minster.
People in Stoke-on-Trent raised funds to help reconstruct the village of Lidice near Prague after it was destroyed on 10 June 1942.
Nearly 180 men were executed there and many women and children from Lidice were murdered in concentration camps.
The Rev David Lingwood said: "It's to remember the tragedy but also the hope and determination of the people here."
The attack on the village was in retaliation for the assassination of Reinhard Heydrich, the highest ranking Nazi official in the Protectorate of Bohemia and Moravia.
'Desire for justice'
Sir Barnett Stross, a local councillor, began a campaign in the 1940s and enlisted the help of coal workers to help rebuild the village.
Last month children from Bustehrad School in the village - now in the Czech Republic - visited Stoke to learn more about Sir Barnett.
Mr Lingwood said: "He must have been quite an inspiring person as there was a great response, it must have been quite sacrificial to give up your wages back then.
"It just shows the compassion from the people in Stoke and their desire for justice - they were not going to allow this far-away village to be wiped off the face of the earth."
Mr Lingwood said the mayor of Stoke-on-Trent, Terry Crowe, would be attending a service in Lidice, while deputy mayor, Sheila Pitt, will attend the service in Stoke-on-Trent.