Flooding in Staffordshire prompts 200 fire service calls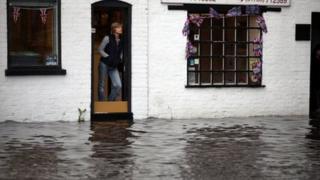 Flooding caused by heavy rain in Staffordshire has prompted an "unprecedented number" of calls to the county's fire and rescue service.
The service said areas that were significantly affected include Brewood, Penkridge, Rugeley and Cannock.
Dean Stevens, from the service, said they recieved more than 200 calls since 09:45 BST.
"We'd ask people to only consider reporting flooding incidents to us if people's lives are at risk," he said.
"We'd urge people to monitor warnings given by the Environment Agency and to avoid driving in areas where there is localised flooding."
The Environment Agency issued a number of flood alerts for Staffordshire including warnings for the River Sow, River Trent and the River Churnet.
Staffordshire County Council's Highways leader Mike Maryon said there was surface flooding on many roads, "particularly in rural areas".
He said: "Our highways teams are busy ensuring roads are passable and blocked gullies are cleared.
"We would ask people to bear with us where there is flooding and potential obstructions in roads.
"We are making every effort to keep Staffordshire moving."