Edmond Arapi receives wrongful murder conviction payout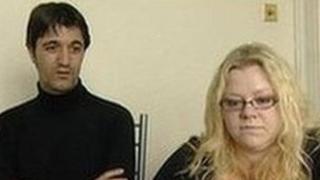 A Staffordshire chef who was wrongly convicted of murder by an Italian court has been awarded about £18,000 in compensation.
Edmond Arapi, 31, from Leek, had faced a 16-year jail sentence for the murder of a man in Genoa in 2004, despite not being in the country at the time.
In June 2010 the Italian government dropped an attempt to extradite him, after he was sentenced in his absence.
An appeal court awarded damages after the authorities admitted their mistake.
In June 2009 Mr Arapi was detained under a European arrest warrant as he arrived at Gatwick Airport, returning from a holiday in Albania with his wife Georgina.
It was the first time he was made aware of his trial and subsequent conviction in Italy.
Mr Arapi spent weeks in prison and months subject to strict bail conditions, as he fought a year-long battle against extradition.
'Emotional impact'
Jago Russell, chief executive of Fair Trials International, which campaigned on Mr Arapi's behalf, said the decision by the appeal court in Genoa should "act as a warning for judges and prosecutors across Europe".
"No amount of money can really compensate Edmond, his wife and his three children for their year-long ordeal and its long-term financial and emotional impact," he added.
An investigation by the BBC in 2010 revealed evidence that Mr Arapi was working in Leek at the time of the stabbing in Genoa.
Witnesses confirmed he was working at Cafe Davide on the day of the attack, 26 October.
An invoice for a food delivery on the day was found to have been signed by him.
Originally from Albania, Mr Arapi said his immigration status in 2004 also meant he was unable to travel abroad without prior permission.
Mr Russell said authorities across Europe had used the "tick-box extradition regime without thinking and in completely inappropriate cases".