Leek roundabout public inquiry sought by protesters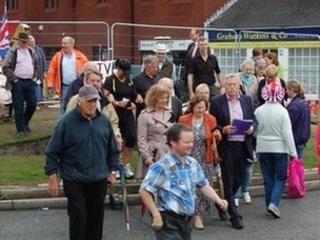 Campaigners who wanted to keep a Staffordshire roundabout are to meet local transport minister Norman Baker in a bid to force a public inquiry.
The Leek roundabout was removed last month after protesters, unhappy with a £5m road plan for the town, had spent over two weeks camped at the site.
Staffordshire County Council was granted a possession order which allowed it to evict the group.
A number of the campaigners will meet Mr Baker at Westminster at 14:00 BST.
They believe the new traffic system, which includes the removal of two zebra crossings, will make road more dangerous.
One of the campaigners, Sarah Gayton, said they would ask the Liberal Democrat MP to help them have the roundabout reinstated.
Ms Gayton said: "It took normal residents of Leek to camp out on a roundabout for all those days to get London to listen to our grave concerns over these road changes."
Alterations to the road layout were given planning permission in December 2010 in a bid to cope with extra traffic created by a Sainsbury's supermarket being built on the edge of the town.
Staffordshire County councillor Neal Podmore said: "The Leek highways improvements are about regenerating the town centre so that we can improve the local economy, create jobs and prosperity and make this great town even better.
"While they are being funded by Sainsbury's, the changes will help Leek cope with expected increases in traffic from around 15 development sites around the town in the coming years, and make sure our town survives and thrives."
He added that the local authority had written to Mr Baker to explain its position ahead of his meeting with campaigners.