London 2012: Badminton hobby to Olympic line judge in two years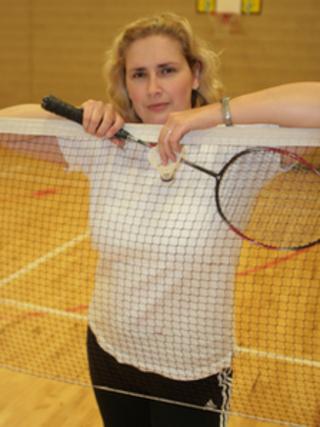 A woman who became a badminton official as a part-time hobby just two years ago has been chosen as an Olympic line judge.
Alyson Shorthouse, 39, said the letter from the organisers of London 2012 had come as a "complete shock".
"It's taken me by surprise how quickly it's all happened to be honest," she said.
"It was February last year that I took part in [officiating] my first badminton tournament and now I'm going to the Olympics."
Mrs Shorthouse, from Stafford, played badminton at school. But it was when she started working as a building regulations officer at Stoke-on-Trent City Council that she started playing again.
"I didn't think I was experienced enough [for the Olympics]," she said.
"I was so excited, when I showed the letter to my husband I couldn't speak so I just kept pointing and squealing.
"For about six years some friends and I have been playing socially, but it was only really something to do after work."
It was during a visit to Birmingham to watch the All England Championships in March 2010 that she made the "impulse" decision to become a line judge.
"On the concourse was a stand recruiting for line judges and I thought I don't have a hobby, this sounds like a fun thing to do and getting more involved in a sport I enjoy."
After taking part in a training course in November 2010, her trainer Abby Kumar suggested she fill in the form to apply to be a judge at the Olympics.
"He said you probably won't get it because you're not very experienced, but I did it anyway and then forgot all about it.
"Three months later I got the letter through from Locog (London Organising Committee of the Olympic and Paralympic Games) saying if you get enough experience you're welcome to come to the Olympics."
'Kid at Christmas'
Mrs Shorthouse set about gaining the necessary experience by line judging at international tournaments, including the All England Championships in Birmingham last March and the World Championships in August 2011 at the Olympic badminton venue in Wembley Arena.
"Our job is to be the officials on court who are effectively the eyes and ears for the umpire, making the judgement call to whether the shuttle lands in or out during play," she said.
"We do get to sit down during the game - so it's not like a line judge at Wimbledon - but it can be very tiring, as you have to concentrate for very long periods of time.
"Although it started as an idea for a hobby, I've taken it seriously from the beginning because one call can change the course of the entire tournament.
"I don't get paid but people's careers depend on my decisions so I can't afford to be flippant."
Mrs Shorthouse will be based at Wembley for 10 days from 24 July.
She has also been invited to attend the opening ceremony at the Olympic Park.
"The Olympics opening ceremony is always my favourite part of the Games and I always watch it no matter what country it's in," she said.
"The fact that I'm actually going there to see it live, I don't think I could be anymore excited.
"I'm like a kid on Christmas Eve and I just can't wait."