Petitions to save Staffords name attracts thousands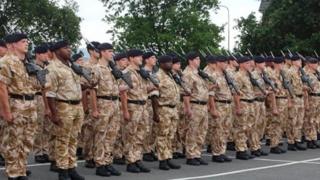 More than 5,000 people have signed petitions opposed to scrapping the name of the former Staffordshire Regiment.
The name of 3rd Battalion The Mercian Regiment (Staffords) is to disappear as part of government plans to re-organise the army.
The Staffordshire Regimental Association and Sentinel newspaper are merging their two petitions.
Assistant Editor Martin Tideswell said it seemed "nonsense" to get rid of the name.
The Staffordshire regiment was formed in 1959 when The South Staffordshire Regiment and The North Staffordshire Regiment (Prince of Wales') were merged.
Its headquarters are in Lichfield and it continues to recruit soldiers from Staffordshire, the West Midlands and Birmingham.
The Army is to lose 17 major units as it cuts 20,000 regular soldiers by 2020.
Mr Tideswell said: "We're hoping that the name of the Staffords could be retained and we're thinking if we can get enough signatures we can send a very powerful message to the powers that be.
"The response has been tremendous, we've had over 1,000 signatures and the regimental association has had more than 4,000.
"It seems a bit of a nonsense on a national scale to get rid of the name - the name Mercian doesn't mean anything to people here but the Staffords does."