Chasewater: Heavy rain helps fill reservoir ahead of time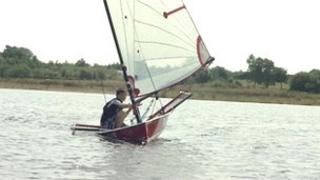 Severe rain in Staffordshire has helped to fill half of a 200-year-old reservoir a year ahead of plan.
The Chasewater Country Park reservoir was drained in 2010 as part of a £5.5m project, following concerns about possible leaks.
In February, 100 tonnes of concrete was poured into the dam to help control the flow of water.
Since then, the heavy rain has filled up the reservoir earlier than predicted.
Staffordshire County Council had said water was expected to be refilled fully by Spring 2013.
But the heavy rain has meant Chase Sailing Club is able to get back onto the water.
A council spokesperson said: "While the extremely wet weather in recent weeks has caused problems, in this case it has been a welcome boost.
"There is some way to go before the reservoir is full, but it has reached its present level much more quickly than we anticipated.
"It is fantastic to see the sailing club back in action and we hope the water sports club will follow soon."
Chasewater Country Park is visited by more than 150,000 people per year and the reservoir provides water to the West Midlands canal system.