South Staffordshire dementia care faces criticism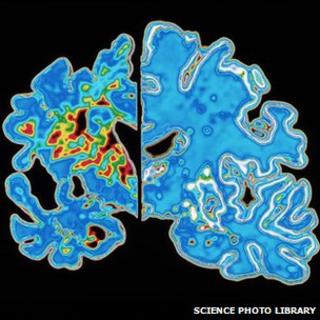 Dementia care in south Staffordshire has been criticised in a report published by patient representatives.
Long waiting lists, poor communication and the attitude of some staff were among the issues raised.
The report by Staffordshire Local Involvement Network (Link) was based on conversations with about 300 carers in the south of the county.
Andrew Donald, from the clinical commissioning group, said more patients had needed treatment than expected.
Memory Assessment Clinics (MAC) UK were awarded the contract by the Primary Care Trust in July 2011.
Its director, Angela Murray, said staff had faced "way more referrals [from GPs] than ever expected".
'Chaotic service'
Jackie Owen, from Staffordshire Link, said the report had been prompted after the organisation received a string of complaints from carers.
She said: "We then visited all the Alzheimer's cafes as they were running across south Staffordshire.
"We had numerous concerns raised about the service, about the waiting times, what appeared to be a chaotic service, people not appearing to be properly trained to do the job, the service being inflexible."
She added that Link had not experienced the same number or degree of complaints in north Staffordshire, which had a different contract in place.
In many cases, Ms Owen said patients in the south of the county were facing a six month waiting time for an appointment and another six months or more for a follow-up visit, despite MAC UK operating a 10-week target from referral to diagnosis.
She said: "Obviously that wasn't the intention of the contract. The contract was to offer a speedy service and this clearly isn't happening.
"For those carers on the receiving end, they need the support, they need it now. It doesn't matter whose problem it is, it needs to be sorted out."
'Sustainable service'
As a degenerative illness Ms Owen said sufferers' symptoms could be delayed if the right support was put in place early on.
MAC UK and Stafford & Surrounds Clinical Commissioning Group (CCG), which has since taken on the commissioning role from the PCT, said extra resources had now been allocated and the backlog of patients was expected to be cleared by the end of September.
MAC UK said more staff had been recruited and additional telephone lines had been installed to deal with calls.
The two organisations added that talks were also going on with patients, carers and all service providers in the area to make sure the service was sustainable in the long term.
Andrew Donald, from CCG, said: "What's gone wrong is very simple. When the service was commissioned, it wasn't commissioned at the level it needed to be.
"I think we totally underestimated the requirements of what the population needs and what we're trying to do now is put that right."