Leominster centre has 'record numbers' of rescue horses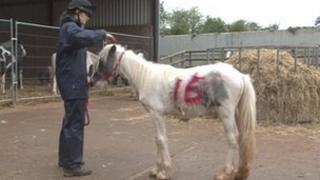 A horse rescue centre in Herefordshire has appealed for new owners to come forward for what it said were "record numbers" of abandoned animals.
The Bransby Home Of Rest For Horses in Leominster said it usually took in 50 horses or ponies a year, but since January had received 120 animals.
Philip York, from the centre, said that because of overbreeding, ponies were now available to buy for £5.
He said people bought them but were then unable to afford their upkeep.
Mr York said: "Ten years ago, perhaps, people would never have considered owning a horse because it was so expensive, but now you can pick a pony up for £5 and that opens the market up to everyone."