Paralympic flame celebrations in Stoke and Cannock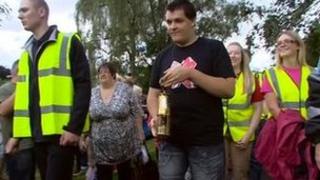 The Paralympic flame has been paraded across two venues in Staffordshire to celebrate the Paralympic Games which get under way next week.
The flame arrived in Stoke-on-Trent at about 10:30 BST where it was taken across Trentham Lake by world champion paracanoeist Dan Hopwood.
Another lantern was brought to Cannock and paraded through the streets before arriving at Chase leisure Centre.
Both events featured sporting and dance activities across the day.
One of the organisers of the event at the Trentham Estate Boat House, John Court, said: "We'll keep it [the flame] burning all day while the activities are on.
"In fact it has to keep burning until Tuesday when they light the flame at Stoke Mandeville."
Mr Court, who is also Mr Hopwood's trainer, added the lantern would be hung from a tripod made from three oars.
In Cannock, eight people took part in the flame relay across the town, including Olivia Wilson who went down to Trafalgar Square on Friday to collect the flame.
Some 33 communities have been involved in events held across the UK to showcase and celebrate Paralympic sports.