Stoke City legend Terry Conroy urges men to get 'Triple A' scans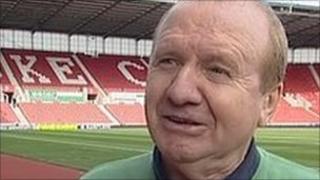 A former Stoke City player is encouraging older men to get checked for a condition that nearly killed him.
Terry Conroy, 65, suffered from an abdominal aortic aneurysm in March 2011, which doctors told him he only had a one-in-10 chance of surviving.
He wants over 65s to be scanned for the condition where the body's main blood vessel, the aorta, weakens and expands.
NHS Stoke-on-Trent is holding an awareness event at Stoke City's Britannia Stadium on Saturday.
Players from Stoke City's 1972 League Cup winning team will be at the event and Mr Conroy said a number of them had been tested for the condition, known by doctors as Triple A.
"What's happened to me has had a very positive effect on people around me because they think if it could happen to me then I better get it checked out," he said.
"My local priest keeps saying it's a miracle and I have to agree with him, because what has happened to me has happened to others and they haven't survived."
About 6,000 people die from the condition in the UK each year.
Emergency surgery
The former Republic of Ireland international had been at an event celebrating St Patrick's Day on Sunday, 20 March 2011 when he was taken ill.
He said: "Out of nowhere came this severe pain in the back region and I felt at the time it was a little bit more than the usual spasms we all get at our age.
"Within minutes I collapsed, and the next thing I know I'm on the floor of a car park with a paramedic attending to me."
He was taken to the University Hospital of North Staffordshire, which was just 500 yards away, and underwent emergency surgery.
Mr Conroy said surgeons told him his residual fitness from football helped him to survive.
"The bulge in my aorta was five times the size and it burst on the operating table," he said.
"If it had burst at any other time I would've died within a minute, because that's how long it takes over your body, you basically drown in your own blood."