Woman jailed for five months after cutting her pet dog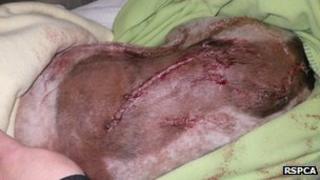 A woman from Staffordshire has been jailed for five months and banned from keeping pets for life after cutting and burning her Springer Spaniel.
Kim Edmonds, 21, attacked 14-year-old Stig in her back yard in Lily Street, Wolstanton in September 2011 with what the RSPCA believed was a sharp blade.
He suffered 31 lacerations and burns to his head, nose and body.
Stoke-on-Trent magistrates court heard Edmonds had originally tried to blame the attack on an intruder.
Another dog, Daniel, also suffered a number of lesser injuries.
'Steep sentence'
Jane Bashford from the RSPCA said: "Everybody who came into contact with Stig, whether it was police officers or veterinary staff, all of them were really shocked because it was a really horrific scene."
"That dog had been to hell and back."
Edmonds was convicted of one charge of the Section 4 Animal Welfare Act 2006.
"This is a steep sentence because the maximum she could get under the act was six months," said Mrs Bashford.
"More importantly to us, Kim Edmonds has been given a lifetime disqualification from keeping any animals, and she can't appeal to the courts against that which means no other animals will suffer at her hands again."
Stig needed a four-hour operation and spent a week recovering at a veterinary clinic which cost the RSPCA thousands of pounds.
The other dog also required surgery for slashes to his head.
The RSPCA said both dogs have since been re-homed together and have both made a full recovery.