Port Vale Roy Sproson statue to be unveiled after 10-year wait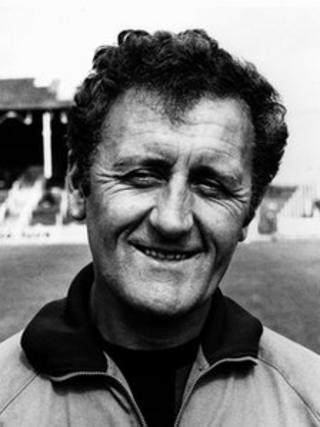 A statue of one of Port Vale's best known players will finally be unveiled after more than a decade of fundraising and planning.
Fans raised £96,000 for a statue of Roy Sproson, who played for the club a record 842 times between 1950 and 1972.
The 16ft (5m) high statue was completed two years ago but the club's financial problems have delayed its unveiling.
Mr Sproson's widow will officially unveil the statue before Port Vale's game against York City on 17 November.
Pete Williams, chair of the supporters club, said it delayed putting up the statue because of worries it might have been sold for scrap if the club, which has been in administration since March, had folded.
He said the administrators who are currently running the club had confirmed the statue would always be owned by the supporters club.
The bronze statue will stand outside the main entrance of the club's stadium in Burslem.
The money raised by supporters has also been used for a granite memorial wall and a plinth for the statue.
Alchemy Investment Group, fronted by Wirral businessman Paul Wildes, has been confirmed as the intended new owner of the League Two side.
Sproson played 760 Football League games for Port Vale in five different divisions - the second, third and fourth divisions and the old third division north and third division south. He played a further 82 matches in other competitions and scored a total of 35 goals.
He went on to manage the club from 1974 to 1977 and died in 1997, aged 66.