Stafford College opens £14m student facilities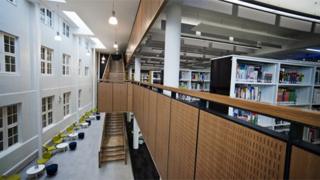 A £14m library and training centre has opened at Stafford College.
The Riverbank building features facilities for catering, hospitality and beauty therapy students, including a kitchen, a bistro and a spa.
At the centre of the new building is a three-storey library boasting 30,000 books and 300 computers.
Principal Steve Willis said he hoped the new "state-of-the-art" facilities would help the college attract more students next year.
He said: "It's taken us almost 10 years to get here because we had to do a lot of demolition first and a lot of planning and find the funding. But it's a fantastic facility for the town and the college."
The spa and bistro are open to the general public as well as students.
"To attract students nowadays you have to have the best facilities and these are some of the best for these curriculum areas," Mr Willis said.