Drive Assist job losses: 'Another bad blow for town'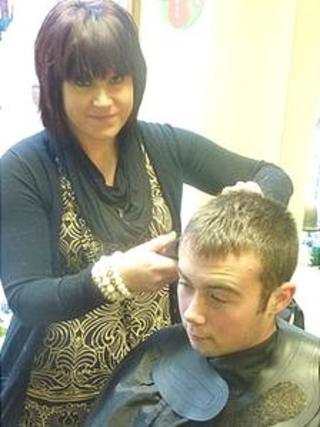 The loss of 229 jobs from a car rental firm in Staffordshire has been described as "another blow for the town," by local traders.
Drive Assist UK Ltd, which provides cars to people who have had accidents, went into administration last week.
The firm said 179 jobs had been lost from its Fazeley site, while 50 were going from its head office at Ventura.
Sally Tunnicliffe, who runs Market Street Barbers shop in Tamworth, said the job losses "would affect spending in the town."
She said: "I do get customers from Drive Assist in here, so it is going to have an effect because the more unemployment, the less money there will be coming into businesses.
"The town is already struggling, it feels like it's one of the worst places in the country to find work at the moment - the jobs just aren't here."
Mandy Woolgrove, who owns Mercia News newsagents, said: "It's another bad blow for the town after Comet and JJB also went from Ventura so you've got those people looking for jobs too.
"There's not a lot of work here in Tamworth and this is the worst possible time for people to lose their jobs, just before Christmas."
'Good economic news'
Jodie Mills, owner of the Sidewalk cafe, said she did not get much trade from Drive Assist workers but said the job cuts would reduce the amount of money being spent in the local area.
"It does have a knock-on effect because people won't be spending," she said.
"The jobs going aren't a surprise in this climate, but there is work about if people look for it. They may not be highly paid jobs but I think they are there if people want them."
Tamworth Conservative MP Chris Pincher said the job losses were "bad news" for the town but that there were job opportunities for people.
He said: "We've had good economic news in Tamworth over the last six months. Unemployment has fallen to below crash levels and we've seen more job vacancies.
"Tamworth is a great little town to live and work in and because its at the heart of the road and rail network, companies do want to set up here.
"A jobs fair ran in the town last month where 35 companies, local and national were offering people work, so I will be getting back in touch with them to try and make sure people made redundant at Drive Assist can approach them."
Drive Assist UK Ltd, employs 640 people at 14 offices, including two other firms it owns, Sol Car Rentals in Tamworth, and Millennium Motor Group in Nottingham.
Administrators Zolfo Cooper said 30 more jobs were going from its other locations across the country.