Cannock Chase deer poaching 'increases for Christmas'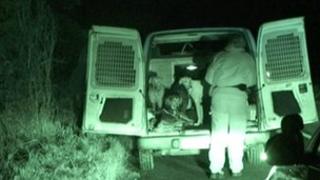 Deer poaching on Cannock Chase and elsewhere in Staffordshire is increasing in the Christmas run-up, say police liaison teams.
Deer, said by meat dealers to be worth up to £100 each, are being shot for the black market in luxury festive food.
On Friday, Staffordshire Police were called to a farm in Sugnall, near Eccleshall, following reports 20 deer had been stolen. Police said the thefts were likely to have taken over a few days.
Since November, police have been carrying out late night patrols with park rangers, RSPCA officers and other wildlife experts.
Faye Burton, of the community partnership Rural Policing Liaison Group, said the problem was "definitely getting worse".
'Policing ourselves'
She set up Staffordshire Poacher Watch, but fears police lack the manpower to act on reports from the public.
The scheme, based on the Neighbourhood Watch model, has been in operation for two years.
However, Ms Burton believes the problem is still getting worse.
"This time of year, people are making a lot of money selling deer and venison, it's noticeably worse in the run-up to Christmas," she said.
"The police just don't have the time to deal with it, so we are policing ourselves now and doing our own patrols.
"They did catch someone just a week or so ago and I was pleased that after so many years of telling them this is going on they've finally started to act on it, but more needs to be done."
Game hunter and butcher Graham Harrall, of Stafford, agreed the scheme raised awareness but without steps to set up a quick-response system when incidents were reported the problem will continue.
Firearms and helicopter
In 2010, he caught deer poachers in the act and saw the police response first-hand.
He said: "They sent the firearms team, a helicopter, the lot. But the problem is that they're not in the area, they're not close enough to cover The Chase quickly and with poaching you've got to act fast."
The Chase covers an area of 26 sq m (41.8 sq km) and it is estimated it is home to about 700 fallow deer, 150 red deer plus an unknown number of muntjak deer.
Since the thefts last week, Staffordshire Wildlife and Countryside Protection Group has been tweeting to inform residents about poaching activity.
On Saturday, the remains of a butchered deer were found by a member of the public.
Derek Crawley, from the group, added: "Wildlife crime is a serious issue in Staffordshire".
Staffordshire Police Supt Dave Holdway, force lead for rural crime, said: "We want to send out a clear message to those who may be involved in poaching… and want to make sure our rural communities know that we take their issues seriously."