Divers used to investigate flood-hit A34 in Stone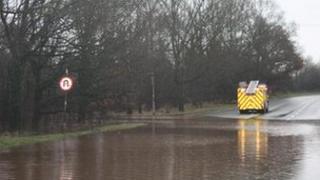 A team of divers has been used to try and find out why a road in Staffordshire keeps flooding.
The A34 at Stone has been closed three times in the past two months because of flooding caused by heavy rain.
Staffordshire county council said the divers went into a culvert underneath the road and found blockages created by debris and a build up of silt and mud.
The authority said clean up work had begun but it was looking at a permanent solution to stop it blocking again.
Ian Turner, the council's head of highway operations, said water levels were still "too high" at one end of the culvert.
He said: "We've cleared the worst of the debris but we're going to have to work further downstream to bring that water level down and get it completely cleared out.
"We're planning to put a trash screen at either end of the culvert to stop big pieces of wood and debris getting in, which should help the problem in the future."
Mr Turner said the council had also built a 1m high dam near the culvert, which had improved water flow through the area.