'Difficult driving conditions' after Staffordshire snow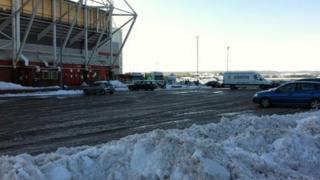 Motorists have been warned of "very difficult driving conditions" in parts of Staffordshire after heavy snow.
The county council said snow had caused problems on some roads, particularly in hilly areas where lorries got stuck.
Kevin Errington, from West Midlands Ambulance Service, tweeted from Stoke-on-Trent: "Lots of lying snow and slush causes hazardous surfaces."
First Bus could only run a skeleton service on Saturday morning and passengers should expect delays.
Risk of flooding
The council said up to four inches had fallen in Stafford and the north of the county while very little snow fell south of Stafford.
Mike Maryon, the council's highways leader, said: "With the big thaw and heavy rain expected in the next couple days, we are now preparing for the impact of icy conditions and even the risk of flooding in the county."
He added that snowploughing crews had worked "non-stop" overnight and the gritters had been out on Saturday morning.
A number of trees have also fallen, the council said.