Woman rescued as flood closes A34 at Meaford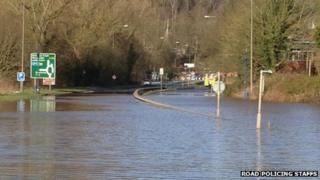 A woman had to be rescued when her car became stranded on a flooded road in Staffordshire.
Police said she managed to scramble to safety after her vehicle got stuck on part of the A34 at Meaford which has been closed due to flooding.
The Environment Agency has issued flood warnings for parts of the Rivers Weaver, Sow, Tean and Sandyford Brook.
The county's fire service said crews had attended seven flood-related incidents.
Most incidents related to flood water running off fields but water on the A34 at Meaford was their "main concern".
The road runs between Stoke-on-Trent and Stafford.
Staffordshire Fire Service said it was pumping water from the A34 into a nearby culvert on the advice of the Environment Agency.
Bob Dagless, group manager at Staffordshire Fire Service, said: "We currently have two high volume pumping units on the A34 as it is about 4ft deep at the worst places.
"We are pumping water on the advice of the Environment Agency into a culvert adjacent to the River Trent next to the Daralston Inn on the A34."
He added that they would be monitoring the scene throughout the day.
'Don't breach barriers'
Mr Dagless also warned drivers to take notice of road closures after seeing one man attempting to move one of the barriers.
He said: "Don't try to breach road closures and barriers as they are there for your safety. If you do breach them you are only going to become stuck in the water."
Staffordshire County Council tweeted: "Big thaw/heavy rain has caused localised flooding. Crews out pumping away flood water from A34 at Meaford."
The BBC Travel website said other roads in the county, including the A518 Weston Road in Stafford, were affected by flooding.
The Met Office said rain and blustery showers were likely for the West Midlands where there was also a chance of some hail and thunder.
Meanwhile, some roads were also flooded in other parts of the country, including Norfolk and Shropshire.