Biddulph graves 'sinking' after flooding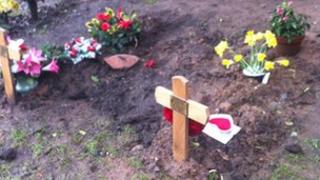 Graves at a Staffordshire cemetery are sinking because of recent flooding, families have said.
Alan Davies, who visits his wife's grave at St Lawrence's Church Cemetery in Biddulph every day, said some graves had been under 2in (5.08cm) of water.
He said: "I put down new turf to get it looking tidy, but the bad weather has made it mucky and unsightly."
Biddulph Town Council, which maintains the cemetery, said it was working to improve drainage on the site.
Mr Davies said: "The ground around the grave has been sinking gradually over six weeks, and its been filled in about three times but its still sinking."
'Lying in water'
Trevor Jones said his wife's grave was not as badly affected but he was shocked by the state of some areas.
He said: "Those people who are buried there are effectively lying in water.
"If that was my wife lying in there I would like her to be exhumed and buried somewhere else, somewhere dry."
Biddulph Town Council said it had installed extra drains and also boards to stop water running off Biddulph Grange gardens next door and into the cemetery.
Town clerk Kate Thacker said the ground had become saturated because of recent floods followed by melted snow.
She said: "If there is any land that does subside a bit, obviously the gravediggers come and level it out.
"In some areas we have sandy soil which is very free draining but in other parts there is heavy clay soil and the water doesn't drain away in the same way."
She said further drainage work would be done once the area had some drier weather.