Queen's Hospital £1.5m heart unit opens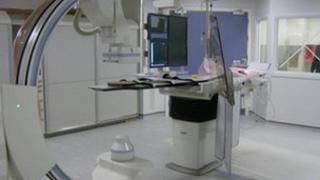 A £1.5m new cardiac unit has opened at Queen's Hospital in Burton-on-Trent, Staffordshire.
Funded largely by donations, the new building includes a cardiac laboratory and treatment centre.
Lead consultant cardiologist Dr Howard Why said it would benefit thousands of patients in the area.
The unit was officially opened by ex-footballer Fabrice Muamba, who suffered a heart attack during an FA Cup match last year.
The 24-year-old former Bolton Wanderers player collapsed on the pitch at White Hart Lane during a game against Tottenham Hotspur.
Some £700,000 towards the Staffordshire centre was donated by the family of Ernest Thornley, a former hospital board member, who left a legacy for Queen's.
Dr Why said the hospital had been "overwhelmed" by the response from the public.
Burton Hospitals NHS Foundation Trust said the unit would save local patients having to travel further afield to larger centres such as one in Leicester.